12" Sweetheart Red Beeswax Taper Candles, Set of 12
Description

Learn More

Size Chart
12" taper candles
7/8" diameter
USA beeswax
Burn time: 10 hours (per candle)
6-pair box personalized with the candlemaker's name
Our beloved clean burning 12" beeswax taper candles in limited-quantity Sweetheart Red beeswax.
Our USA beeswax comes straight from the bees. As a result, the color of our beeswax candles varies from batch-to-batch. It's completely natural and makes the candles even more special. 
Each of our beeswax taper candles is hand dipped over 20 times by a dedicated craftsperson in Sturbridge, MA using our signature technique. Learn more about dripless taper candles.
Our beeswax tapers are made of nothing but 100% USA beeswax and 100% cotton wick, joined together in thin layers to create a smooth, satin-like candle with a dripless, smokeless burn. Beeswax candles give off a faint honey aroma and a sublime soft glow when lit.
Click here to view our candle size chart.
---
Free shipping on orders over $35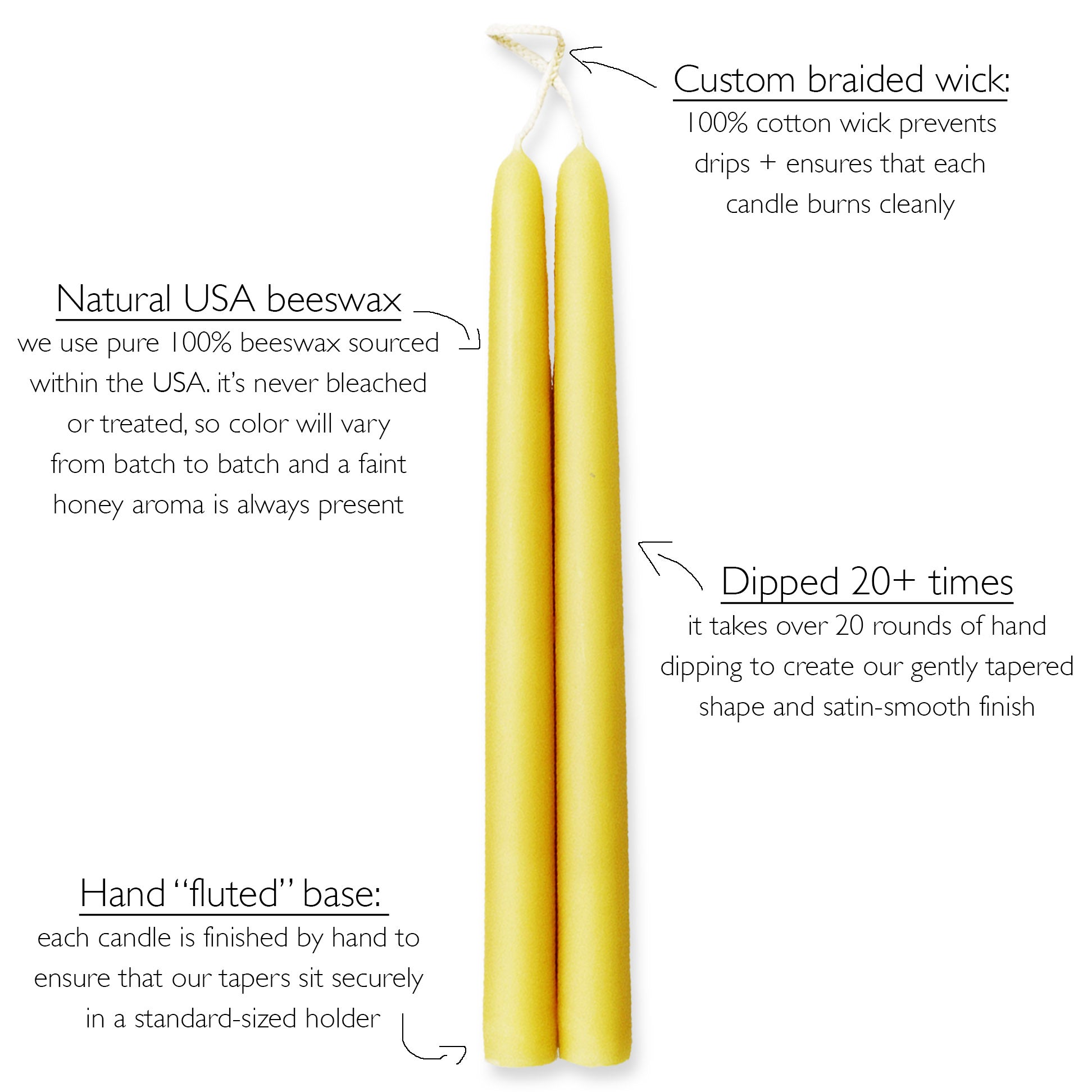 Why Mole Hollow candles?
We take enormous pride in crafting the finest candles available. These are just a few features that set our beeswax tapers apart.
Beeswax Taper Candles
100% pure beeswax taper candles are dipped by hand using only natural beeswax and cotton wick. These beeswax candles are made of solid beeswax so that they burn cleanly and without smoke. Choose from four sizes – 6" beeswax tapers, 8" beeswax candles, 10" beeswax taper candles and 12" tall beeswax candles. Our beeswax is sourced from domestic suppliers for the cleanest beeswax candle available.